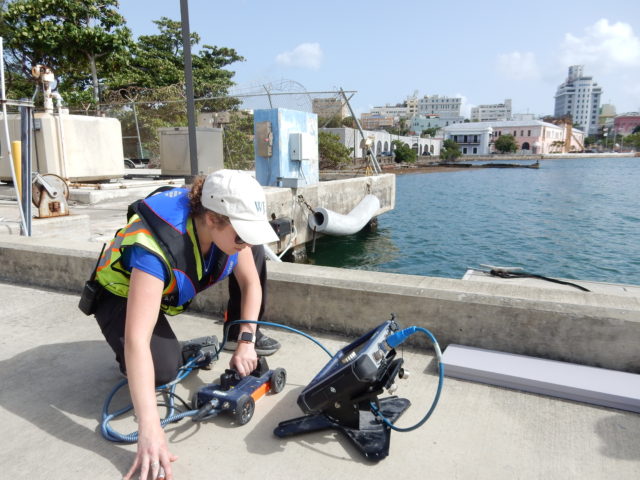 Please note…

WE HAVE A DIFFERENT NEW MEETING LOCATION FOR SEPTEMBER!
THURSDAY, SEPTEMBER 19, 2019 at Maggiano's Little Italy, Memorial City Mall, 602 Memorial City Mall, Houston, TX 77024, Tel: (713) 461-0692
11:30 am – Social
11:45 am – Lunch
12:00 pm – Program
Joshua White of Wiss, Janney, Elstner Associates will present "Condition Assessment of Maritime Piers" at our September meeting.
Abstract
Maritime structures typically experience harsh exposure and use conditions, leading to corrosion-related damage and material degradation. For such structures, certain elements of design and construction should consider relevant deterioration mechanisms in order to prevent premature manifestation of damage and reduce unplanned maintenance and life cycle repair costs.
This presentation discusses a large-scale pier assessment project located along the coast of Puerto Rico, where routine visual inspections identified excessive cracking and deflection of newly-constructed piers. In order to identify the extent and severity of distress conditions, a multi-faceted assessment approach included a detailed visual survey and nondestructive evaluation, as well as laboratory and structural analyses. The assessment approach and findings will be presented. Important findings that would not have been identified without the complementary integration of NDE and laboratory testing will be highlighted.
In order to evaluate the effect of observed conditions on the pier's expected service life, service life modeling was performed to provide a better understanding of various repair options and remediation strategies for the owner's life cycle planning. In order to provide assurances of the load capacity of the pier, a load test was performed of the pier's structural deck system. Challenges associated with the load test included instrumenting the underside of the pier, which had relatively low freeboard; and facility requirements to clear the deck surface of loads in the event that pier needed to be used.
Presenter
Joshua White, PE, is a structural engineering consultant at Wiss, Janney, Elstner Associates, Inc. (WJE), where he specializes in the forensic investigation of various concrete, steel, and wood structures, including buildings, containment structures, foundations, bridges, tunnels, and maritime structures. Mr. White's expertise includes the development and application of nondestructive evaluation multi-method approaches using acousto-ultrasonics, electromagnetic, and electrochemical test methods. Mr. White has a B.S. degree in Physics from Abilene Christian University, an M.S. degree in civil engineering (emphasis in structural engineering) from Texas A&M University, and is currently completing his Ph.D. at the University of Texas at Austin.