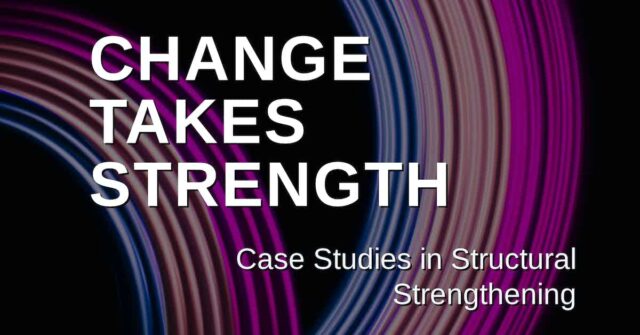 Please join us for our webinar Thursday, September 15, when Anirudh (Ani) Goel and Charles Hammond of Walker Consultants present Change Takes Strength: Case Studies in Structural Strengthening.
Thursday, September 15, 2022.
Noon-1:00 p.m. (Central).
Online webinar.
Free to SEAoT members, $10 for non-members.
Group registrations are available! Pay $25 for up to 5, or $50 for 6 or more. Have one person register, pick the group option, and pay for the group option. After the webinar, email your sign-in sheet to

[email protected]

.
Registration closes at noon the day before the webinar.
1.0 PDH* with verified attendance
How to register:
Non-members: submit payment at the SEAoT Houston Payment Page
Instructions for accessing the webinar will be provided by email
Abstract:
Changes of use, addressing original design deficiencies, and correcting construction defects often necessitate that existing structures be strengthened to accommodate the anticipated loadings. This presentation will cover various strengthening techniques used in concrete, masonry and steel structures by presenting case studies where strengthening was required. Included are case studies for restoring negative moment capacity in concrete slabs, strengthening precast double-tees, strengthening a vintage beam to accommodate increases in applied loads, strengthening CMU wall for existing wind and vibration loads, and supplementing steel beams to counter inherent instabilities of a Gerber girder system.
Presenters:
Anirudh (Ani) Goel is a Restoration Engineer III in Walker's Houston office. He performs evaluations, non-destructive testing, feasibility studies and design of repairs for a variety of structural, architectural, and material distress related projects. His experience includes computer modeling, analysis and design of steel, concrete, masonry, and timber structure and retrofits. Ani has over seven years of experience in the field of structural engineering with forays in the oil and gas industry and traditional structural engineering consultancies. He is currently a registered EIT.
Charles Hammond is a Principal in Walker's Austin office. Charles' diverse international and domestic background has included restoration projects, new design projects, forensic investigations, and litigation work. Services provided on these projects include structural analysis, construction administration, repair design, load testing, non-destructive testing, failure investigation peer review, and expert witness services, among others. Charles' over 15 years of design and forensic experience have included various structure types such as stadiums, medical facilities, high-rise buildings, residential buildings, industrial facilities, bridges, pavements, retaining walls, hydraulic structures, and commercial buildings. The structures have utilized a variety of materials including structural steel, wood, and concrete. Charles holds multiple certifications, including PE and/or SE licensure in 14 states, LEED Accreditation, and Certified Welding Inspector.
* PDHs for this course will be provided by SEAoT Houston and are NOT accredited by NCSEA or any other organization.