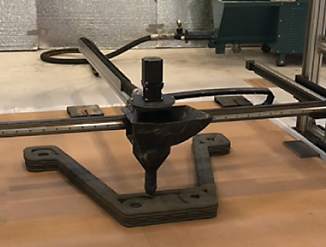 Please join us for our webinar Thursday, October 21, when Dr. Mahmoud Reda Taha presents Emerging Opportunities Using 3D-Printed Concretes Using ASCE 7 and ASCE 24.
Thursday, October 21, 2021.
Noon-1:00 p.m. (Central).
Online webinar.
Free to SEAoT attendees.
1.0 PDH with verified attendance (must be logged in for at least 50 minutes of the webinar).
How to register:
Zoom link for webinar will be provided by email
Abstract:
Advancements in materials science and robotics introduced additive manufacturing, widely known as 3D printing, to the construction industry. This development has created opportunities in construction that were not possible a decade ago. In this presentation, I will present the research investigations carried out by my research group at the University of New Mexico on developing a new generation of 3D-printed concrete with superior mechanical performance. I will share our findings on the rheological and mechanical properties of 3D-printed concrete. I will also showcase our latest research on textile-reinforced 3D-printed concrete panels with superior crack resistance and ductility. I will also describe some recent investigations on using CO2-based materials for producing 3D-printed concrete with a low carbon footprint. I will conclude by discussing the emerging opportunities in transportation and energy infrastructure and the possibility to improve infrastructure resilience using 3D printed concrete.
Presenter:
Dr. Mahmoud Reda Taha, PE, FACI, F. ASCE, is a Distinguished Professor, Regents' Lecturer, and Chairman of the Department of Civil, Construction & Environmental Engineering at the University of New Mexico, where he has worked for the last 18 years. Dr. Taha has authored and co-authored more than 350 papers in refereed journals and conference proceedings; he has ten issued US-Patents and has advised more than 50 graduate students toward their MS and Ph.D.
Dr. Taha is a Fellow of the American Concrete Institute (FACI), Fellow of the American Society of Civil Engineers (F. ASCE), past Chairman of the ACI Committee on Polymers in Concrete, and current Chairman of the ACI Committee on Nanotechnology, Section Editor of ASCE Journal of Materials in Civil Engineering, Secretary of the ASCE Infrastructure Resilience Division. Dr. Taha is a bridge engineer by training and has worked as a licensed professional engineer on numerous projects worldwide. Dr. Taha received his BS (Honors) and MS in Structural Engineering from Ain Shams University, Cairo, Egypt, and his Ph.D. in Civil Engineering from the University of Calgary, Canada, in 2000.